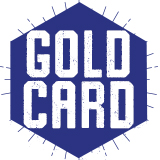 Add the amount you need!
$5 minimum purchase required
Use at any of our dining locations!
Gold Card funds can be purchased in increments of $5 and adjusted by typing in the quantity field (ie Quantity "5" x $5 = $25 Gold Card Dollars). Locations include all La Salle University Dining Locations, Concessions in the Trumark Financial Center, La Salle Outpost, Connelly Library, Saxbys Coffee and local businesses such as Explorers Den, Pauline's Deli and Sorrento's Pizza .
Gold Card Dollars are Tax Exempt saving Gold Card customers 8% City and State Sales Tax at "on-campus" dining locations.